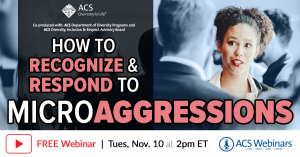 Join ACS Webinars and the Division of Professional Relations for a series of paired-events that are co-hosted by the ACS Department of Diversity Programs and the Diversity, Inclusion and Respect Advisory Board.
Tuesday, November 10, 2020 at 2-3pm ET
Speaker: Fatima Dainkeh, She+ Geeks Out
Moderator: Paula Christopher, American Chemical Society
What a microaggression is, looks like, and how it manifests
How to respond to microaggressions if you experienced one or how to respond to someone who has shared that they have been offended by something you did or said
How to respond to a microaggression if you witnessed one, but were not an active participant
Co-produced with: ACS Department of Diversity Programs and ACS Diversity, Inclusion & Respect Advisory Board
__________
Then, join us to discuss!
When: Thursday November 19 at 4-5 pm ET
Moderator: Ben Fiore-Walker, PhD – Manager, Department of Diversity Programs at American Chemical Society
Register for the Listening Session
Following this session, the ACS Division of Professional Relations (PROF) will be hosting a listening session, building off of the ACS webinar to allow members to provide their thoughts, ideas, and suggested action items. This will be facilitated by Ben Fiore-Walker, Manager of the ACS Diversity Programs Office. This session will be held on November 19th from 4-5pm EDT and you can register for this event at the following link: https://american-chemical-society.zoom.us/meeting/register/tZIkcOmuqT0pHtDkWLt1_oam0l3_X6Uwypvz
It is not required for attendees of the Listening Session to attend the ACS Webinar, but it is highly encouraged and the video recording can be viewed on-demand following the live broadcast (free ACS Member benefit).
These paired events will help us to continue to listen to our Members and provide them a conduit to share their thoughts, feelings, and suggested actions to help improve the culture of inclusion with ACS and our respective institutions.
And, let's keep the conversation going. Let us know how we can support you, our members, by submitting anonymous suggestions to: https://app.suggestionox.com/r/DI_R