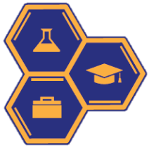 We are here to advance the soft skills of chemists as they begin their career, and to provide guidance to early career chemists. Our definition of a younger chemist is anyone who is beginning their chemistry career. We have no age limits, and welcome all members to utilize the advice of our experienced chemists who can help guide us as early career chemists.
Contact younger@acsprof.org for more information.
Provide support and programming for early-career chemists at Regional and National ACS Meetings
Work with the Younger Chemists Committee (YCC) to increase the number of early career chemists that are engaged in ACS activities from participation to becoming leaders at all levels of governance
Further distribute of-interest career tools and programs that the ACS provides
Why you should join
You want to be counted among the people who support the goals of this subdivision
You have ideas about how to achieve this subdivision's goals and want to share them with us
You have leadership skills and experience and want to help us
You want to develop leadership skills and experience and want to help us
You want to learn about academic, workplace and career issues for early career scientists
You want to help make chemistry a more enlightened scientific field
How to get involved
Join the subdivision
Answer all member needs surveys that come your way
Be willing to share and be a part of something
Contact the subdivision chair with comments or questions
---
Younger Chemists Committee
We work very closely with the Younger Chemist Committee to assist in their programming needs.  We all need to help the program at the local, regional, and national levels.  They have a variety of activities at meetings.
---