Ethics education is important and paramount in becoming a professional.   Ethics is not the same as moral reasoning. Good people can do bad things. Newspaper articles report on cases in which scientists "mess up" or make the wrong choice in regards to ethical research, publishing and lab safety.1 Ethics is as important as chemical laboratory skills and both must be taught. Basic research improves lives through chemistry; the quality of the science and published results is directly dependent upon the adherence to best practices in scientific ethics.
Ethics in ACS
The American Chemical Society (ACS) takes ethics seriously as it is infused in the society in a variety of ways. The ACS has developed "The Chemical Professional's Code of Conduct" that can be implemented or modified for implementation at your organization to improve employee's and student's ethical decision making.2 Similarly, ACS International Activities has composed the Global Chemists' Code of Ethics (GCCE)3 and a free online training module is available to all.4  As the division that leads the Society in professional development for all chemists, the Division of Professional Relations (PROF) has an Ethics Subdivision members can join.5 The Ethics Subdivision organizes symposia and networking opportunities for chemists to learn more about the topic and how to infuse it into their labs, workplaces and courses. ACS has a Committee on Ethics (ETHX) that was formed to promote and support "high standards of ethical conduct and integrity in the community of chemistry and related disciplines for the benefit of science and society."6,7 ETHX meets twice annually at the national meetings with additional virtual meetings at other times of the year. Throughout the year, ETHX is focused on linking content and educational resources for chemists on their website, developing and sponsoring ethics programming, contributing to Webinars, and rewarding outstanding ethics programming with its ChemLuminary Award for "Outstanding Local Section Programming Related to the Promotion of Ethics in Chemistry."8 The linked resources include both ACS and non-ACS resources including links to the U.S. National Science Foundation (NSF) Responsible and Ethical Conduct of Research9 and U.S. Department of Health and Human Services' The Office of Research Integrity documents and training tutorials.10
Ethics Resources
Educators and managers must emphasize teaching ethics. To that end, for the chemical sciences, ACS and its members have taken the lead on ethics education. ETHX members are highly regarded professionals and innovators in ethics education. The ETHX Committee Chair contributes a column published in the weekly ACS publication Chemical and Engineering News. ETHX has published two monographs on its website authored by its members including "Introduction to the Ethics of Scientific Conflict of Interest (COI)" by Patrick Knerr and Ron D'Amelia11 and "The Importance of Ethical Conduct in Scientific Research" by Laurence Doemeny and Patrick Knerr.12 There are many articles published in the ACS Journal of Chemical Education and ACS Symposium Series books on ethics education. ETHX Committee member Patricia Mabrouk and former member Susan Schelble teamed up to survey ACS national meeting attendees on "ACS Members' Knowledge and Needs on Research Ethics" and reported their findings in the ACS Journal of Chemical Education.13 ETHX Committee member John D'Angelo authored the book Ethics in Science: Ethical Misconduct in Scientific Research published by CRC Press/Taylor and Francis.14 ETHX Committee Chair Judith Currano and member Patricia Mabrouk edited the 2018 ACS Symposium Series book entitled, Credit Where Credit Is Due: Respecting Authorship and Intellectual Property which stemmed from ACS national meeting symposium presentations.15 In addition to online resources, journal publications and books, ACS has organized webinars for chemists seeking to learn more about ethics. An example is the recent ACS off-campus Webinar entitled, "Copyright and Ethics Basics, and ACS resources available to help"16 focused on the peer-review process.
Networking Opportunities
The Ethics Subdivision hosts networking sessions at national meetings. We hope to see you at our next event!
I joined PROF because they offer valuable programming and networking events. There's something for everyone. Reach out to me to learn more about ACS ethics resources and programming and to learn how you can get involved in the Ethics Subdivision. And the next time you are at an ACS event, don't be afraid to introduce yourself!
References
Biography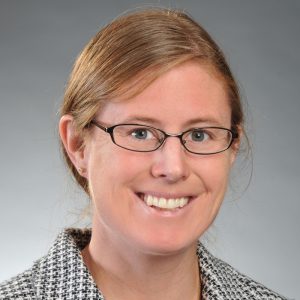 Kelly Elkins is an Associate Professor of Chemistry at Towson University (TU) where she teaches courses in forensic DNA biology, forensic chemistry, and forensic serology and leads a research lab in TU's Forensic Science Education Programs Accreditation Commission (FEPAC)-accredited undergraduate and graduate degree programs. Kelly is a leading forensic educator who has authored two books, Introduction to Forensic Chemistry (CRC Press/Taylor & Francis, 2018) and Forensic DNA Biology: A Laboratory Manual (Elsevier Academic Press, 2013). She has published five book chapters and over thirty journal articles including a recently published paper entitled, "Case Studies and Methods for Teaching Professional Ethics for Forensic Science Students," and a forthcoming invited book chapter on "Publication Ethics" in Principles of Research Methodology and Ethics in Pharmaceutical Sciences to be published by CRC Press. Kelly is an active volunteer leader within the American Chemical Society where she is a member of the ACS Ethics Committee (ETHX) and serves on the Executive Committees of the Division of Professional Development as the Chair of the Ethics Subdivision and Secretary of the Division and the Maryland Local Section as Councilor and Co-Chair of the Women Chemists events. She organized three symposia and presented poster and oral presentations on ethics topics at the virtual Philadelphia and San Francisco ACS National Meetings.