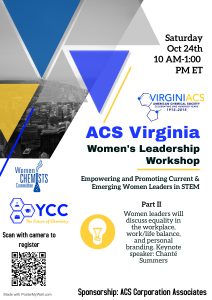 The American Chemical Society (ACS) Virginia Section Younger Chemists & Women Chemists Committees are excited to continue the Women's Leadership Workshop Series with Part II  being scheduled for this Saturday, October 24th, 2020 from 10 AM to 1 PM EDT. The aim of this workshop is "to empower and promote current and emerging women in STEM". 
This event will feature Keynote Speaker Chanté Summers, M.S. She's a Senior Associate Scientist at Pfizer and Co-Chairs the Minority Affairs Committee of the St. Louis ACS.
You can find additional information about Chanté and the other leaders in the attached files. This event will feature Two-45 mins Zoom breakout sessions (see agenda) on topics such as: (1) Equality in the Workplace, (2) Work/Life Balance, and (3) Networking/Personal Branding. PLEASE NOTE that you'll attend 2 out of the 3 sessions due to the event duration. Choose your TOP two choices and register via this LINK or scan the QR Code on the Flyer with your phone camera.
Please share with your colleagues and friends! We are hoping to have a wide demographic of women from college students to women in the late stages of their careers, even retirees.
Feel free to reach out to Stacey Sank (WCC Chair, stacey.x.sank@gsk.com) or Julian Bobb (YCC Chair, bobbja@vcu.edu) for additional details.